What Goes Into Running An Artisan Perfume Business?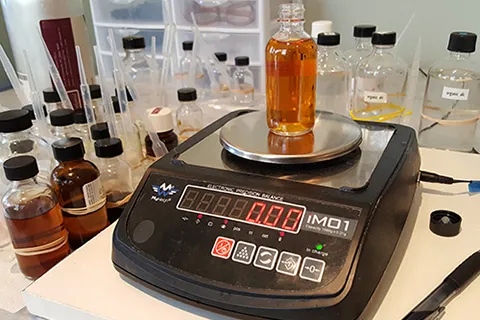 Have you dreamed of creating your own perfume brand? Or wondered what keeps artisan perfumers busy behind the scenes? Maybe you have taken classes and developed some formulas, and now your friends say that they want to buy your fragrances. Should perfumery remain a hobby or should you take it to the next level?
I often receive emails from people who request advice about starting a brand; I can't answer those questions individually, but this post covers some points that I think would be important for those inquirers to consider. You can find plenty of general advice for starting a business, such as how to obtain a license and business name, but this post covers details that are more specific to artisan businesses and to perfumery in particular. The following 12 suggestions are based on my experience gained from running an artisan perfumery since 2004. Your experience may vary, of course.
Ask yourself if you can juggle the many different aspects of the job beyond the formulating. Evaluate which tasks you cannot do, whether you will have the funds to hire help for those aspects of the business, and whether those expenses are one-time or ongoing. Can you design a logo and packaging? Use Photoshop? Create a brand identity? Design and maintain a website? Photograph your products? File trademarks? Answer all customer emails promptly and courteously? Create all the juice and fill all the bottles? Pack and ship all the orders? Source ingredients and maintain ingredient inventory? Follow social media and post about your products? File 1099's and payroll paperwork? Keep track of all the incoming payments and outgoing expenses in some kind of financial software so that you or someone else can file your income taxes and sales taxes? Certain people thrive on this kind of multi-tasking, while others find it overwhelming. You need skills in many areas and the self-discipline to stay on top of things. You also need the ability to research products and procedures. People are quick to visualize the fun aspects of creating a brand, but they tend to be less able to imagine all the little details that go into it.
Remember that your products have to be priced not just to cover the cost of your ingredients and packaging, but also to cover all the costs of running your business. One of the most common misconceptions I see about pricing artisan perfume is that the cost of a finished product can be approximated by the cost of the ingredients and packaging, when in fact the total cost to the creator is much more. I'm not trying to justify the absurdly high prices we've seen in the niche market lately, but product pricing is more complex than people realize. Expenses incurred by an artisan perfumery business include payment processing fees, website fees, business insurance, employees/contract labor (this will include ongoing helpers such as a shipping assistant or an accountant as well as one-time hires for tasks like graphic design), ingredients that go into product development, postage, sales taxes, alcohol taxes, equipment (computers, labelers, scales, crimping machines, refrigerators, shelving, etc.), supplies (bottles used for developing formulas, pipettes, filters, gloves, shipping tape, boxes, bubblewrap, mailers, ink, label tape, tissue paper, etc.), computer software (for example Photoshop, Excel, Quickbooks), promotional giveaways, business cards, education, licensing, contests, trade show displays, and organization dues. If you run a lean business and do most of the work yourself, you can keep prices lower, though you will not be paid for your many hours of work and you'll still have the non-employee costs mentioned above. Artisan businesses tend to be labors of love, but they can also create income for you if you take all the costs into account. Some artisans create more profit by collecting fees for teaching classes, adding another source of income to the business in addition to product sales.
Realize that the economy of scale works against you when you buy ingredients, packaging, and supplies. Because you have to buy small quantities, the per gram price of your ingredients will cost many times more than the price per gram that larger companies pay for their ingredients. Items like bottles, labels, boxes, and shipping supplies all cost more in small quantities too. Still, it's probably best to resist the urge to buy large amounts when you first start because you're likely to make mistakes (for example, some people buy bottles that are too large, not realizing that perfume collectors prefer smaller bottles, and some people buy bottles/sprayers that they later discover are prone to leaking).
Recognize the good things about being a small company and use them to your advantage. Your agile artisan company can quickly adjust to market changes and can survive and even thrive in market downturns, which are harder feats for your less nimble larger competitors. Your small size also lets your brand be an extension of yourself (if you so desire), and it allows you to connect directly with your customers. You are free to use very expensive ingredients, unlike many larger brands, and you do not have to follow focus groups. Celebrate the artisan advantages that probably attracted you to this type of work.
Be aware that if you want to sell to boutiques and/or use distributors, your prices will have to be higher. Boutiques will pay you only half of your retail price (the price you charge for your products on your website) and distributors will take an even bigger cut. You need to look at the costs involved with wholesaling and evaluate whether you can price competitively and still come out enough ahead to make the business worthwhile. It's much harder to make a profit when you split your sales income with retailers, but you may be able to do some wholesale as long as you also do a healthy portion of sales directly on your own website. You may prefer to limit wholesaling only to select boutiques that you trust to handle your brand with care. Your own website can be the best place to sell your products if you make your site attractive, easy to use, and easy for the fragrance community to find.
Be aware that you'll need to follow some regulations and you'll need to stay abreast of changes to regulations over time. In addition to local and state license requirements, you'll also have to follow federal, and in some cases state, rules that govern cosmetics. If you sell scents in the USA, you will need to follow the FDA regulations for cosmetics, including conforming to the labeling requirements. You may also have state regulations, such as the California Safe Cosmetics Program. More USA regulations are likely coming in the future (for example, the proposed Personal Care Cosmetics Act), though the smallest businesses may be exempt. If you create scents in the EU or sell to stores in the EU, you must follow the EU Cosmetics Directive. You have probably also heard about IFRA, the International Fragrance Association, which has compiled a long list of rules about ingredient usage, banning a few ingredients and restricting the levels of many others. It is true that you don't need to follow IFRA rules if you don't belong to the IFRA organization, but that's not the whole story. You'll want to carry product liability insurance, and you are expected to follow safe manufacturing processes and use safe formulas, which means that you should probably not stray too far from IFRA rules even if you don't belong to IFRA. (You don't have to purchase lab analysis to follow IFRA guidelines; you should be computing the percentage of all ingredients in your formulas, usually in software like Excel, and you can find all the IFRA guidelines online to check your formulas. Another great resource, for safe use of natural ingredients, is Robert Tisserand's comprehensive book Essential Oil Safety.)
Realize that shipping alcohol is complicated. USPS allows domestic shipments of alcohol-based perfume by ground only and prohibits international shipments of perfume. The legal way to ship internationally is by UPS/FedEx, which is much more expensive than USPS (be sure to negotiate a business discount, which helps). Many small perfumers choose to ignore the USPS rules and ship international USPS anyway, but you can be fined and it is not a wise risk if you do very much volume. Some post offices are stricter than others about enforcing the rules. Perfume is considered hazardous goods and is difficult to ship via UPS/FedEx unless you stay within the amount that is allowed under the "excepted quantities" rule, which limits shipments to 30 ml bottles of perfume or smaller and limits the total amount of ml per shipment box. Even if you ship UPS/FedEx, you can run into rules in some countries that prohibit any perfume from being imported to individuals who do not have a license to import cosmetics, and you will have no legal way to ship directly to customers in those countries. International customers will be understandably disappointed if you can't serve them, and they often won't understand the rules because they see so many companies getting around the rules by lying about the contents of their packages. (Oil-based scents are generally much easier to ship, depending on their flashpoint.)
Be aware that you'll need to keep an annual inventory of ingredients and finished products for tax purposes, which can be challenging with many hundreds of bottles. You'll need a big enough space for your business, separate from the rest of your life, and you'll need to stay organized with spreadsheet software such as Excel. You'll need to track your inventory's dollar value to use in your annual computation of cost of goods sold.
Decide whether you can handle being "on call" 24-7 and if you have the right personality for customer service. You'll receive orders seven days a week, and you'll need to hire help if you can't keep up. Of course, this is a good problem to have! 🙂 You'll want to treat customers the way you would hope to be treated yourself. I've found most people to be honest and wonderful, but it helps if you come from a place in your heart of wanting to please and wanting to be fair. You're providing a product that will bring pleasure to people in their busy lives, and you want the transaction to be as pleasant an experience as using the product. You'll want to make customer satisfaction and product quality your top priorities.
Understand the distinction between contractor and employee for any help that you hire. Any person that does not qualify as an independent contractor needs to be characterized as an employee and the paperwork is so complicated that it is easier to hire a payroll company to handle all the required filings. There are a few payroll companies that cater to small businesses, but you'll still pay far more than the actual wages that your employee will receive.
Don't quit your day job, at least not right away, and think about how your brand concept offers something new to a crowded field. Your new business will take some time to thrive, so you'll probably need your current job while you grow your new brand. Each year numerous small artisan perfumeries enter the market, bringing with them ever more perfume releases; last year 2,044 new perfumes were launched, according to Fragrances Of The World. Think about what you have to offer that is new and how you can distinguish your brand from the rest.
Limit your initial investment to what you can afford to lose. You won't need to invest large amounts of startup money if you do a lot of the work yourself, though your ingredients and packaging will require a significant investment. I was able to grow my business without taking loans and without investing very much at any one time, just by starting small and reinvesting the profits back into the business as I went. Starting small is the safest way to proceed if you can't afford to lose money. Custom bottle designs are out of reach for most new artisan perfumers, but you can use stock bottles and then create distinctive branding with the design of your website, boxes, and labels.
If you've read through all these complications and don't feel deterred, you may be the sort of person who can handle an artisan business. The upside is that your work will truly interest you and you'll be your own boss with all the freedom that confers. You can work from home and set your own hours. You'll also meet many wonderful people among your customers and fellow perfumers.
I didn't plan the growth of my business; I just kept taking the next steps to see where it would take me. I would have valued the information in this post before I began my journey, so I hope these thoughts are helpful to those contemplating this line of work and to those who just want to know more about what goes into an artisan perfume business.